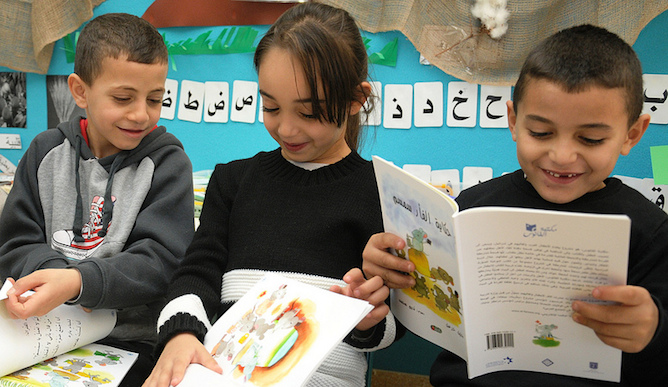 Children's books light up Arabian nights
Lantern Library is giving storybooks to children in all Arab, Bedouin and Druze kindergartens and special-education Israeli schools, and some preschools.
By Abigail Klein Leichman APRIL 24, 2014, 12:00 AM
A storybook about a mouse named Soumsoum has caused quite a sensation in Arab, Bedouin and Druze state-run schools throughout Israel.
The Arabic book was gifted to every kindergartner, special-needs pupils and some preschoolers in state-run Arab schools as the latest extension of the Massachusetts-based Harold Grinspoon Foundation's PJ Library project. Suggestions included for classroom and home activities based on the book have been a big hit.
"I've seen more mouse masks, mouse hats, mouse drawings and pictures of mouse homes than I ever dreamed I would," laughs Galina Vromen, CEO of the Grinspoon Foundation's Israeli arm and director of its book distribution programs Sifriyat Pijama (PJ Library) for Jewish children, now in its fifth year, and the new Maktabat al-Fanoos (Lantern Library) for Arab children.
About 45,000 children in 1,750 kindergartens will receive four children's books this year with the goal of instilling an early love of reading.
Vromen explains that many Arabic-speaking families do not have children's books. Written Arabic is formal – the equivalent of Shakespearean English, she says — making literature inaccessible to kids. The four Lantern Library books chosen by a committee of Arab experts in children's literature and/or development, as well as Education Ministry officials, employ a combination of formal and colloquial Arabic to be more child-friendly.
"The formal language is a huge barrier, and this program makes the issue of parent involvement easier," Vromen tells ISRAEL21c.
Soumsoum, the first of the quartet, was distributed in January in cooperation with Arab publishing houses. Three of the books are written by Arab authors and one is an Arabic translation of a Hebrew book.
Lantern Library is led by the Ministry of Education, with support from the Grinspoon Foundation and the Price Family Charitable Fund, which funds and operates Bidayat (Beginnings) Early Childhood Centers and programs in Arab communities.
Pajamas and lanterns
Vromen expects that Lantern Library will be as successful as Sifriyat Pijama, which this year is distributing Hebrew books to more than 200,000 Hebrew-speaking preschoolers and kindergartners in most Israeli municipalities, or about 85 percent of children attending state schools in these grades.
Between them, PJ Library in the United States and Sifriyat Pajama in Israel have given away more than 10 million books in nine years.
Why Maktabat al-Fanoos rather than the Arabic equivalent of PJ Library?
Arabic does not have a "p" sound, and Arabs call their sleeping attire "nightshirt." So Vromen and the committee searched for a different name.
"A lantern conveys the feeling of shedding light, in terms of enlightening and being associated with the evening," Vromen explains.
Soumsoum (which means "sesame" in both Arabic and Hebrew) is about a field mouse who mentally stores the images and stories of summer while his peers scurry around gathering food for the winter. When the cold weather arrives, Soumsoum warms his friends with his stories and poems. The lesson is that every person has a role to play in his or her family and society.
One of the suggestions for parents and teachers reads: "The mice use their imagination in order to cope with their hunger and boredom. Let us take our child on a journey through the world of imagination: We'll close our eyes and imagine ourselves in a beautiful place. What do our senses perceive? Or you may think of something pleasant that happened to you today, or that you would like to happen."
Feedback from teachers has been enthusiastic, says Vromen. One teacher invited fathers to come in and read the books to small groups before everyone took the books home, while another asked all the parents to attend a session where their kids told them the story in their own words.
The book now being distributed is Fiddiya, originally published in Hebrew as Kaspion and translated some years ago. It's about a small silver fish swimming alone in the sea that comes across a huge baby whale in distress because he lost his mother. Fiddiya and her friends help the whale find his mother.
"Parent discussion suggestions focus on the way that each person can help another," says Vromen. Arab culture is rooted in mutual assistance, and its folklore is full of stories about someone small coming to the rescue of someone big.
Lantern Library is envisioned as a long-term partnership with the Ministry of Education.