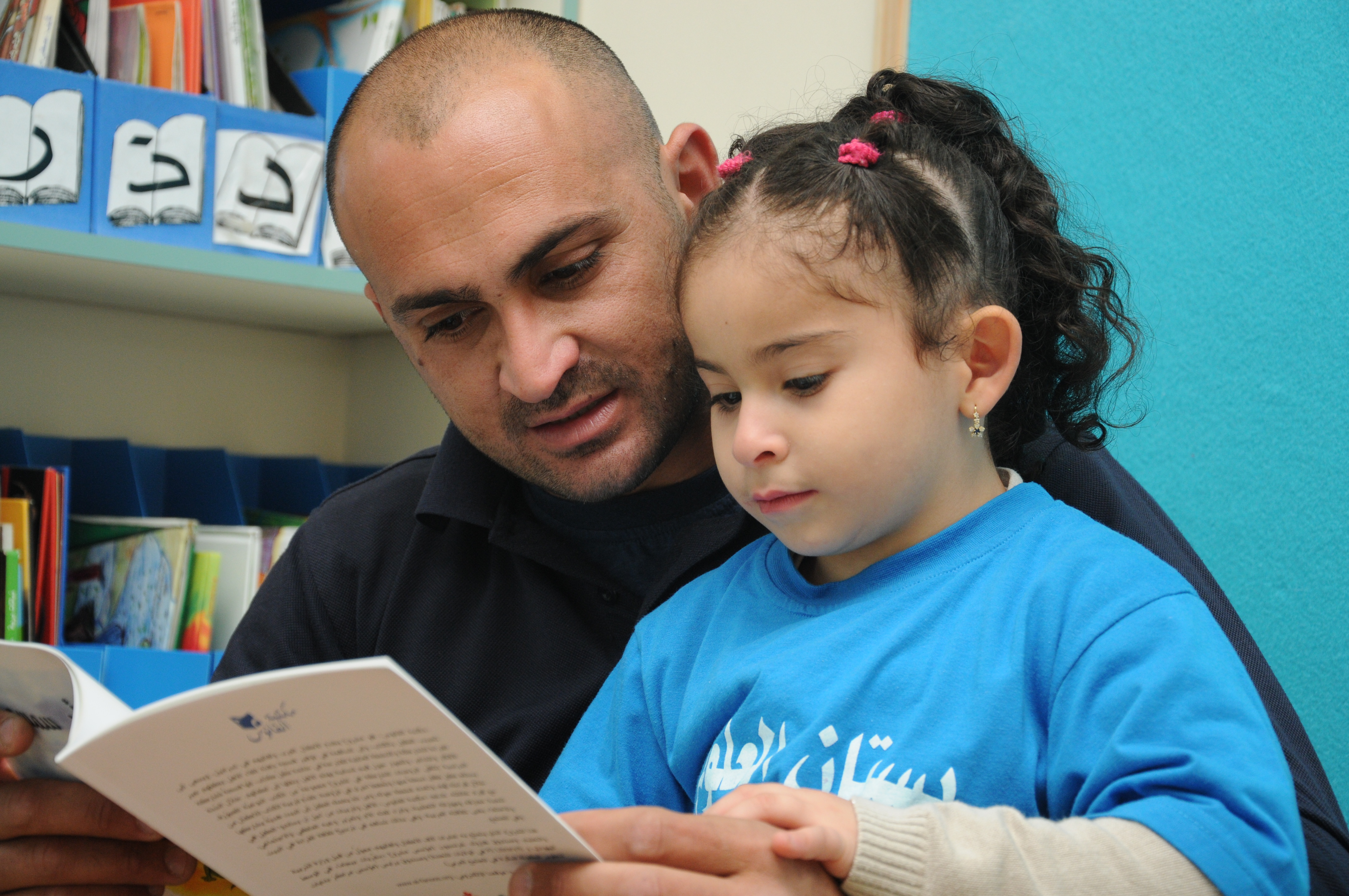 Book project helps Arab kids bid goodnight moon, with a bedtime story
Lantern Library program provides free books to every child in Israel's Arabic-speaking preschools, emphasizes developmental importance of values-focused dialogue
BY RENEE GHERT-ZAND May 11, 2015, 4:19 pm 4
WRITERS
Renee Ghert-ZandRenee Ghert-Zand is a reporter and feature writer for The Times of Israel.
BAQA AL-GHARBIYYE – It was hard to miss Little Monster on a recent visit to El-Ma'ley kindergarten in the northern Israeli city of Baqa al-Gharbiyye. Little Monster was everywhere: on the bulletin boards, on the children's T-shirts and hats, and most importantly, on the bookshelf.
Little Monster is the main character in the picture book "Supposing" by British author Frances Thomas about facing and overcoming one's nightmares and worst fears. The book (in Arabic translation) is one of the works featured in Maktabat al-Fanoos (Lantern Library), an early childhood literacy program led by the Education Ministry, with support from The Harold Grinspoon Foundation (Keren Grinspoon Israel) and Price Philanthropies.
Launched in January 2014, the program provides each of the 80,000 children enrolled in the 2,500 preschool classrooms in Israel's Arab communities with eight high-quality Arabic-language picture books per year—free of charge. TheBidayat Early Childhood Centers and Programs at Al-Quasemi Academic College of Education in Baqa, on behalf of the Education Ministry, provides training for teachers on how to work with the books in the classroom, as well as on how to help parents engage with their children at home around the books.
For an American or European parent whose child has gone through an intense Franklin the Turtle or Curious George phase, or who has pretended to be Eloise at the Plaza for days on end, the notion that Little Monster has gained rock star status among the students of a kindergarten class is unremarkable.
Arabic edition of 'Supposing,' written by Frances Thomas and Illustrated by Ross Collins, one of the Maktabat al-Fanoos (Lantern Library) books. (photo credit: Renee Ghert-Zand/Times of Israel staff)
"The story is different, however, in the Arab communities in Israel, where until now there has been little access to high quality children's literature," said Areej Masarwa, coordinator of reading programs at Bidyat.
"There is also no longstanding tradition of shared reading between adults and children," she said.
While Arabs in Israel have always orally transmitted tales to younger generations, and there is a great history of Arabic literature, Masarwa said that the sight of parents snuggling up with their children to read a picture book at bedtime has been somewhat rare.
Indeed, the experience of children being smitten with a picture book character—as the El-Ma'ley kids have been with Little Monster—is relatively new. It is only recently that the young students at El Ma'ley and other preschools in Arab communities throughout Israel have had the opportunity to delve into the imaginary worlds of picture books thanks to Lantern Library and similar initiatives like Umm el-Fahem Reads, a collaboration of the Van Leer Jerusalem Institute, the Umm el-Fahem Municipality, and the Education Ministry, and My Bookshelf at Home, introduced by the Education Ministry in 2011.
According to Dr. Margalit Ziv, founding director of Bidayat, a number of factors can be blamed for the dearth of quality Arab-language children's books in Israel. Because there has been no tradition of, or demand for, children's books, there are few writers of the genre among Israeli Arab authors. In addition, most young Israeli Arabs who pursue university studies end up losing full command of Arabic—an official, though a minority language in Israel—and are more comfortable writing in Hebrew or English than in Arabic.
Father reads to his daughter in Baqa al-Gharbiyye. (photo credit: Akmal Nagnagy)
Some also see the diglossic nature of Arabic as an impediment to the writing of children's books. Children speak a local Palestinian Arabic dialect (al-Ammiya) with their parents, family members and teachers, but books are written in Modern Standard Arabic (al-Fusha), a classical Arabic used in books and newspapers all over the Arabic-speaking world. (The children learn al-Fusha as they read the Lantern Library books, but they use al-Ammiya to discuss them with their parents).
"Politics also play a role in the traditional lack of children's books in the Israeli Arab community," said Ziv. "There is high quality children's literature in Iraq, Syria, Lebanon and the Palestinian Authority, but importing the books to Israel is a problem."
Lantern Library is overcoming these challenges by translating outstanding picture books originally written in Hebrew or other languages like English and French, while concurrently encouraging local Arabic writers to try their hand at children's literature and local Arabic publishers to help meet the demand for the Lantern Library books.
Children at the El-Ma'ley Kindergarten in Baqa al-Gharbiyye play game based on Maktabat al-Fanoos (Lantern Library) books. (photo credit: Mohamad Nagnagi)
"Preschool teachers did not know literature of this quality before," Fatma Kassem, the Education Ministry's national supervisor for early childhood education in the Arab sector, told The Times of Israel.
"We've heard from publishers that teachers who were not involved in the Lantern Library pilot [prior to the full launch in January 2014] were buying the books on their own because they were so impressed by them."
Masarwa is pleased with how the program is improving the young students' phonetic reading and reading comprehension skills. But as she looked on at a group of four-year-olds playing a word game with teaching assistant Suheir Shakia at the Angels of Mercy preschool in the neighboring village of Jat, she said she's prefer to see more of an emphasis put on the values imparted by the Lantern Library books, especially in the workshops in which teachers give parents tips on how to use the books at home.
"These days parents in the Arab community are more inclined to see their children as individuals, and reading with them and discussing the values and emotions in the picture books is part of this," she said.
'These days parents in the Arab community are more inclined to see their children as individuals, and reading with them and discussing the values and emotions in the books is part of this'
Masarwa noted that although Arab parents today are more encouraging of their children's developing a sense of individualism and independence, she discovered that some had a hard time with a book titled, "Who Licked the Ice Cream Cone?" by Rania Zaghir.
In the book, a witty girl wonders how best to devour her ice cream cone. She is presented with suggestions and input from imaginary animals that are all too willing to help her out by eating a bit of the ice cream themselves. In the end, the girl learns that the best way to enjoy her ice cream is her own way. Simultaneously funny and wise, the story encourages children to value their own instincts and trust their own decisions.
"It turned out that for some parents, the idea of choosing your own way is not something they feel fully comfortable promoting," said Masarwa.
Dealing with the emotions mentioned in or provoked by the books can also be challenging for some parents. Suzan (who did not reveal her last name), who was visiting her five-year-old son Ahmed's classroom in Jat, told The Times of Israel she thought that Lantern Library was an excellent initiative, but that she didn't like one of the books.
When asked which book it was and why, she said it was "Nafnouf" by Ora Eyal. "Nafnouf" is the name that a girl gives to a chair, which she transforms into an imaginary pet dog. The story, about the power of the imagination, angered young Ahmed for some reason, and that in turn angered his mother.
Drawing by child at El-Ma'ley Kindergarten in Baqa al-Gharbiyye depicting his fear of panthers—a response to "Supposing," a Maktabat al-Fanoos (Lantern Library) book. (photo credit: Renee Ghert-Zand/Times of Israel staff)
Mohammad Effima, a lawyer visiting his six-year-old son Bhaa's class in Baqa, said he liked that "Supposing"—the book featuring the popular Little Monster and about facing one's fears—got his son to think about "what if" scenarios.
"That is something that can help in everyday life," he said. "These books are giving him opportunities to think more deeply and to problem solve."
Unlike The Harold Grinspoon Foundation's PJ Library program that delivers free Jewish-themed picture books straight to the homes of Jewish families in North America, the Lantern Library books are first sent to the children's pre-kindergarten and kindergarten classrooms (the same is done for the Sifryat Pijama program that provides free books to Hebrew-speaking Israeli children).
'These books are giving him opportunities to think more deeply and to problem solve'
According to an evaluation of the program's first year, teachers in Arab preschools read the books more times with their students and invite parents to participate in book-related activities more frequently than do Jewish teachers involved in the Sifryat Pijama project.
Although it turns out that the Arab preschool teachers have fully embraced Lantern Library and there is a clear benefit to the books being used in class before they are sent home, there is also a purely practical reason why the program is set up this way.
"It's hard enough getting the books to the teachers at the schools in communities where there are often no street addresses," said Galina Vromen, executive director of Keren Grinspoon Israel and director of Sifriyat Pijama and Lantern Library.
"Sometimes the only address we have is something like, 'Fatma's kindergarten next to the kiosk.'"
Mothers and children decorate Maktabat al-Fanoos (Lantern Library) book bags in Umm el-Fahem preschool. (photo credit: Amna Jabareen)